Industrial Steel Grating Walkway Products

All products can be customized according to your requirements

Steel Grating Walkway is a widely used steel grid product. This steel grating has been widely used in various fields of industry and has strong resistance to surface impact. Especially steel with a cross-bar spacing of 50mm. The grid has a strong resistance to side impact. Industrial Steel Grating is suitable for alloy, building materials, power station, boiler, shipbuilding, petrochemical, chemical, and general factory buildings, municipal construction and other industries. Industrial Steel Grating Platform has the characteristics of ventilation, light transmission, non-slip, strong bearing capacity, beautiful and durable, easy to clean and install. It is a new type of building product that is updated. Welded ribs, tread plate guards, and attachments such as connectors are installed in the periphery. It can be used with flat steel edging of different specifications for carrying flat steel, or with angle steel, channel steel, square tube, etc., handles and hinges can also be installed on steel gratings that need to be moved or opened frequently. The Serrated Steel Grating Platform can be used in wet and slippery places, especially for offshore oil platforms.
Non-Slip Steel Grating is mainly used as a walkway board in the working platform corridor. It is generally an aerial work. It is an open-plate steel member which is fixed by orthogonally combining the flat steel and the cross bar at a certain interval and fixed by welding or pressure lock. Since the steel grating platform is a high-altitude operation, it only needs to meet the manning requirements. The general span is within 1000 mm, usually G 253/ 30/ 100 or G 303/ 30/ 100; if the span is 1000-1500 For mm, we use G 323/ 30/ 100.
Most Popular Specifications OF Industrial Steel Grating Platform:
1. The grating with the pitch of 30 mm between bearing bars is the most widely used type in industrial field. Among normal types, it has the strongest resistance to surface lash.
2. The grating with the pitch of 40 mm between bearing bars is the most economical and lightest type. It is the best choice for you on occasions that the span is small.
3. The grating with the pitch of 60 mm between bearing bars and the pitch of 50 mm between the cross bars is developed specially for mining industry, It often appointed to use in processing works of mining industry.
4. The grating with the pitch of 30 mm between bearing bars and the pitch of 76 mm between the cross bars is the most popular type used at home and abroad, It is proper for many applications such as walkways, platforms, etc.
Hebei
Zhenxing Jinyuan Wire Mesh Group Co., Ltd was established in 1988 and has a history of more than 30 years. Which is located in China's " hometown of wire mesh" and " The basis of China's Wire Mesh Industry" --Anping County. Covering an area of more than 60 acres, more importantly, it is the largest local Steel Grating manufacturer. We have the well-managed organization and employees more than 300, 20 professional and technical personnel and senior engineers, and strong technical force. Our company has excellent production equipment and advanced production technology and scientific management practices. The main product Steel Grating and Expanded Metal Mesh is welcomed by new and old customers at home and abroad. Steel Bar Gratings are widely used in petroleum, chemical, port, power, transportation, paper, pharmaceutical, steel, food, municipal, real estate, manufacturing,
and
other industries. We can also produce according to customer's requirements. All products comply with international standards and industry standards. We sincerely hope that our company can establish
a long-term
cooperative relationship with friends at home and abroad, in good faith cooperation, mutual benefit and create a better future!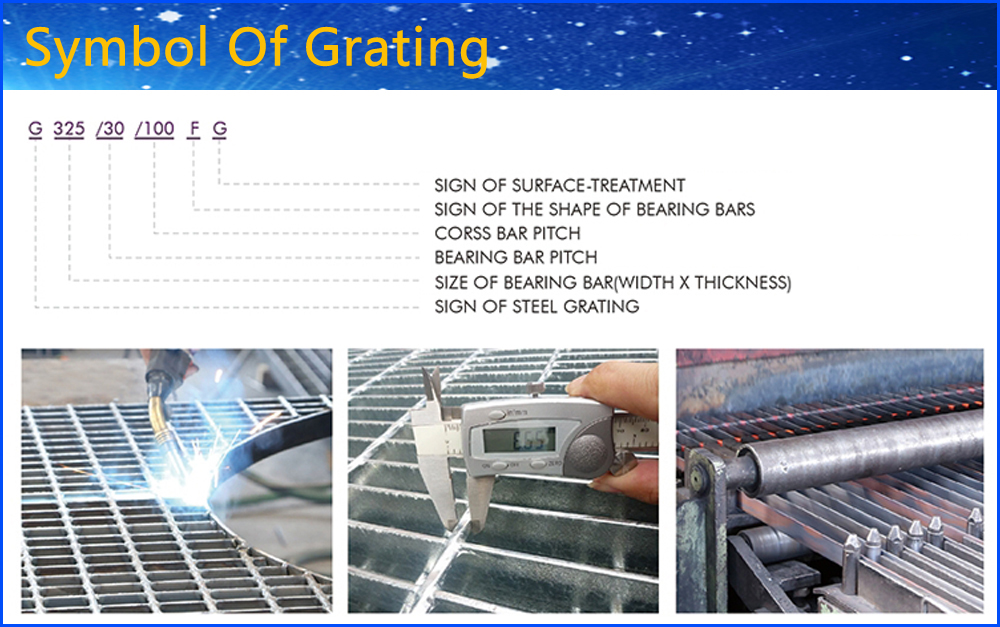 Note:
1. Steel Grating Bearing Bar pitches

2. Steel Grating Cross Bar pitches

3. Sign of the Shape of Bearing Bars:
F-Plain style (maybe omitted in the symbol of steel grating);
S-Serrated style;
I-I-section style

4. Sign of surface-treatment:
G-Hot dipped galvanizing (maybe omitted in the symbol of steel grating);
P-Painted;
U-Untreated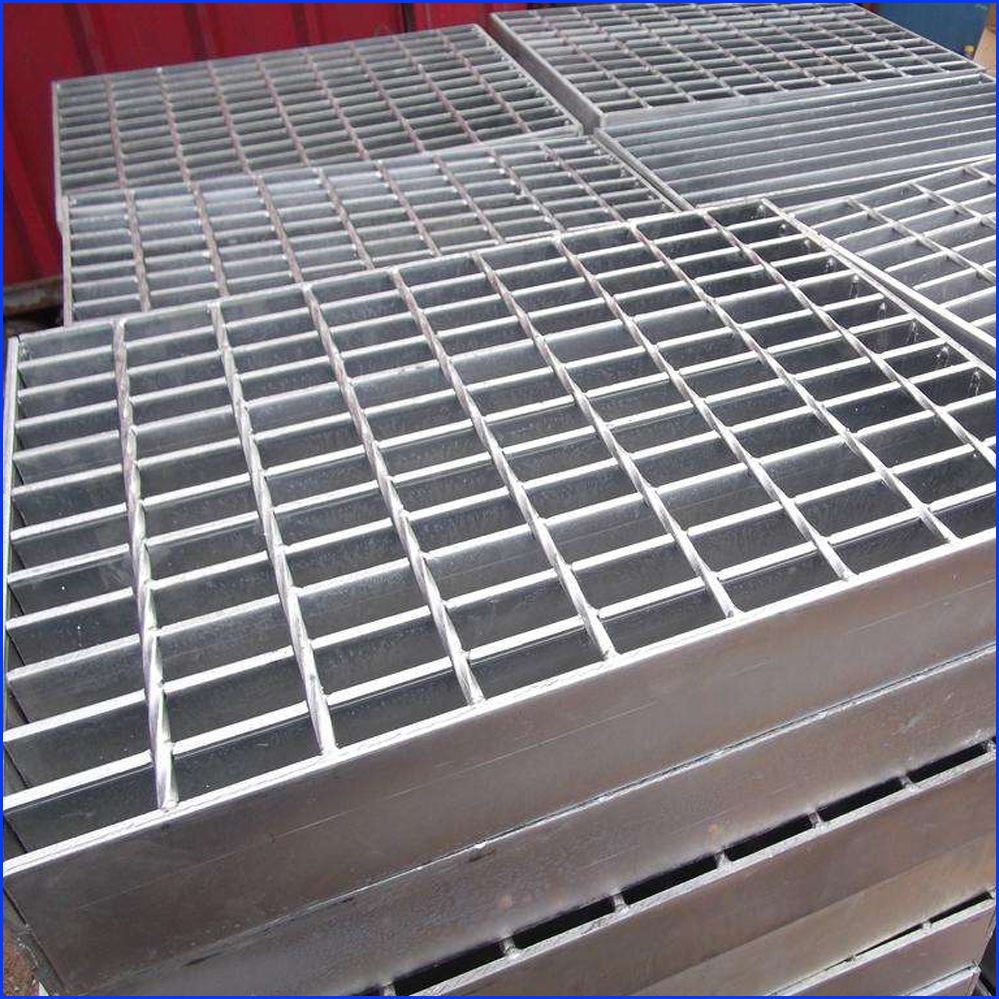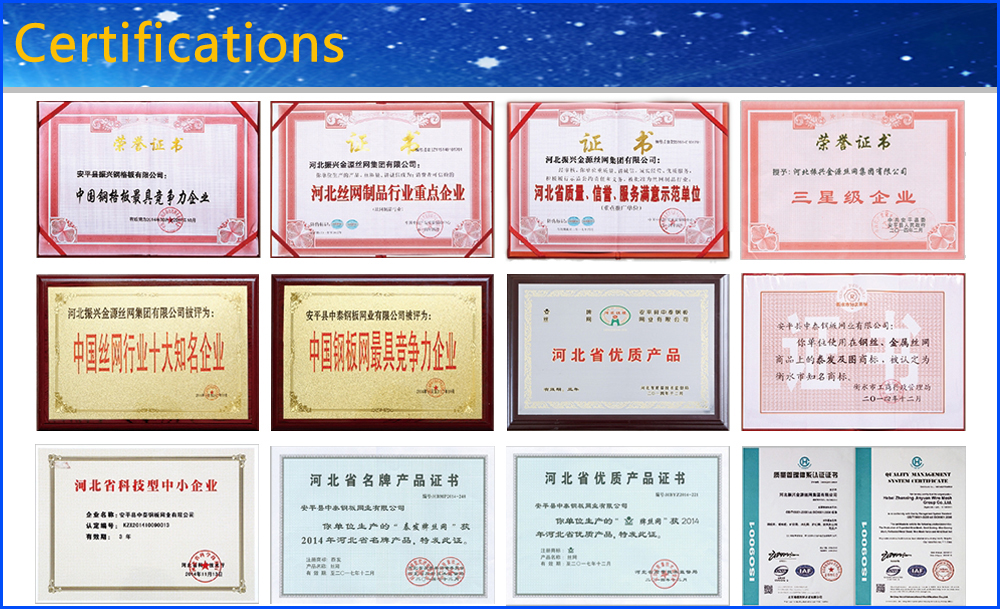 Elenco prodotti : Piattaforma di grata in acciaio > Griglia in acciaio per carichi leggeri